Many eCommerce Marketers are concerned about the upcoming iOS 15 update due to be released by Apple this Fall (between September – November).
This new update will bring new features that will fundamentally impact multiple channels of eCommerce marketing, to include, Email Marketing.
What Are The Email Implications Of The Apple IOS 15 Update?
Mail Privacy Protection (Free):
Apple Mail will now allow users to opt in to mail privacy features that mask IP addresses and block 3rd Parties from recognizing key behaviors and metrics of users such as open rates.
Every Apple Mail user will be granted a free personal VPN that is designed to work against eCommerce Marketing strategies by concealing open rate metrics and user location data.
Both metrics are key to expanding email marketing capabilities, especially for brick-and-mortar stores.
Hide My Email (Within iCloud +):
Hide My Email, otherwise known as HME, hides a user's personal email and cloaks itself with a unique, random email address instead. Although emails sent to the "fake" address will be forwarded to the recipient's personal inbox and shouldn't affect important communications, brands will not identify a real email address.
However, this is still under speculation. We don't truly know the full impact of HME until the complete rollout.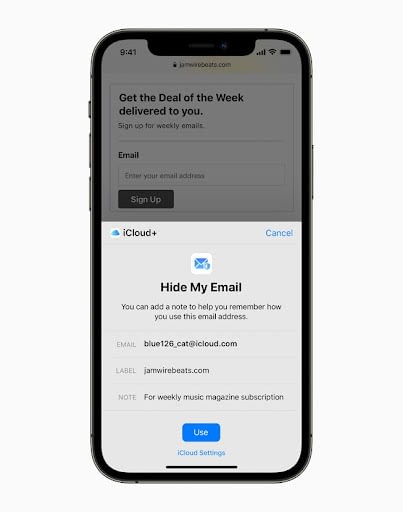 Image Source: Apple
According to the latest data from analytics firm Flurry, when Apple released the iOS 14.5 update, 96% of its users decided to leave tracking disabled. We can estimate that a similar adoption rate will happen among Apple users with the iOS 15 update.
Knowing your audiences' mobile device of choice, and the ratio of mobile to desktop preferences for accessing email has never been more important as Apple continues its campaign on privacy while shifting gears towards anonymizing end user data.
Will Email Marketing Stop Working?
Undoubtedly, this update will hit hard for Email Marketing since data collection is becoming more scarce, but there are a few ways you can adapt and leverage these everlasting changes.
Francis Baker, compliance and deliverability technical specialist at Klaviyo shared his thoughts with the Apple iOS 15 update.
"The email space is constantly evolving. Let's rewind back to 2018 when we had to deal with the chaos and change of GDPR—that shook the email space—or even CCPA, another large change. This industry will constantly change and, as marketers and deliverability folks, we'll adjust," he said.
Although Apple's major email privacy update will ripple across the eCommerce space, in the end, this is just another hurdle marketers will overcome.
So will email marketing stop working? The simple answer is no. Email Marketing will continue to be one of the oldest and most profitable marketing channels as long as you know how to effectively adapt to these changes.
How To Combat The iOS 15 Update For Email Marketing?
The team at KC Chow Agency is always innovating strategies to adapt and combat such updates. Read this article to find our in-depth strategy on how you can combat the iOS 15 update too.
Here are some methods of how to combat iOS 15.
Focus On Clicks More Than Opens: Revise Your Segmentation Strategy
Open rates or subject lines may no longer be relevant with iOS users. However, the most critical measures like click-through rates, onsite behavior, and purchase history still remain.
Continue tracking your click-through rates today to establish a baseline against which you can compare performance once iOS 15 is released.
Does This Mean We Should Leave Open Rates For Good?
No, we shouldn't. Open tracking is still supported by several other operating systems, including Android, Microsoft Windows, and Linux, meaning that open rate metric segments can be utilised for systems other than iOS.
Your engagement segments can no longer rely entirely on open rates to dictate the level of engagement of your subscribers.
Your new engagement segments should mainly focus on click-through rates and placed order behaviours. Naturally, your recipients populated for these segments will be smaller but they are high quality engaged profiles.
Take a look at the new engaged iOS 15 Segments that you can implement to your email marketing today to be well prepared for the iOS 15 rollout.
Segmentation Examples:
Email Segment 1 Definition:

Those who "Clicked Email" is at least once "In The Last 50 Days"

Those who "Placed Order" is at least once "Overall Time"

Profile Is "Not Suppressed"
Email Segment 2 Definition:

Those who "Opened Email" is at least once "In The Last 50 Days"

Those who "Placed Order" is at least once "Overall Time"

Profile is "Not Suppressed"
Email Segment 3 Definition:

Those with email address includes "@icloud.com"
Note: We will split the segments into three different campaigns, the Email Segment 1 will always get sent first because Email Segment 1 is the most engaging segment when compared to others. Email Segment 2 will get sent in another campaign and it will exclude those subscribers from the Email Segment 1
Note 2: For every email campaign, exclude the "@icloud.com" email subscribers, and make the "@icloud.com" subscribers segment a stand-alone campaign, the reason why is because we want to eliminate the chances of letting icloud.com subscribers ruin the open rates metric on other campaigns.
Refine The Non-Engager Re-engagement Flow
The non-engage re-engagement flow has been an effective way to re-engage those who've never opened emails for an extended period of time. With the Apple IOS 15 updates, email marketers will have to revert from the old ways of defining and executing the Re-Engagement Flow for non-engaged users.
Previously, open rates have been relied heavily upon to examine where in the level of engagement users fall into, and which pool of engagement they must be under in order to trigger the Re-Engagement Flow more accurately.
Once we enter the iOS 15 era, you must begin relying on other metrics to replace the open rate metric when building segments, such as the shopper's purchase history, frequency and average order value data.
For example, create two different tiers of re-engagement flow,
Tier 1: Non-Email Openers Re-engagement Flow
Tier 2: Non-Email Clickers Re-engagement Flow
Both flows will exclude each other.
Email List Hygiene Is Still The King
Get your deliverability in order. List hygiene, sending reputation and high deliverability rates should always be priority. Trim your list down while your open rate engagement data is still fresh.
Glock-apps and Litmus are both great tools to assist you in your email list cleaning efforts.
Key Takeaways Of Apple IOS 15 Email Marketing Updates:
Remain calm, cool and collected. Apple's iOS 15 update will certainly make your marketing experience a little more challenging but there is always a workaround.
Our team at KC Chow Agency view this as a positive direction for user experience, as does Will Dekrey, Hubspot's Group Product Manager of Campaigns
"What's true about people today is that they want BOTH privacy AND personalization. Email marketers will likely need to focus even more on creating remarkably relevant content that drives their audiences to engage and take action, versus experimenting with headlines just to see if they can get a click", Dekrey explains.
eCommerce brands are expected to start focusing more on quality content, better user experience, and customer trust. This will improve engagement, lifetime value and loyalty with their customers.
Email marketing will remain as one of the most profitable and effective channels for building a loyal following who will actively support your brand.
Look for more clarity on how you can refine your existing email marketing strategies for your eCommerce brands?
Schedule a consultation with our team of email marketing experts today!